**Current Job Builder will be sunsetting August, 31th, 2022**
The Compensation and Classification Unit of Human Resources is excited to announce the upcoming launch and replacement of our current online tool used for viewing job standards and creating position descriptions, Job Builder with Job Builder - powered by JDXpert. This will be a customized product of JDXpert and Payscale.
UCM Job Builder - powered by JDXpert, will serve as a repository for staff (non-student) job descriptions with the intention of also using the system as a workflow engine for staff compensation and classification actions during a second phase of rollout, timeline to be determined. We are implementing this change as part of a larger rollout systemwide with the goal of improving the job description creation experience, and to standardize many aspects of the job description format and process systemwide. 
How to prepare:
Be prepared to spend some time learning the new system. Trainings, user guides and office hours will be available to assist our users with the learning process.
Managers and department job description preparers ensure your employees' job descriptions that are created in the current Job Builder are in PDF for your personal records. 
Preview of Job Builder – Powered by JDXpert: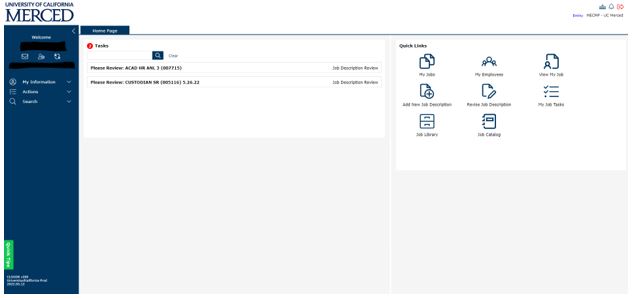 Resources
Training and Live Demo Dates

Drop-In Hours
Questions?
If you have any questions regarding UCM Job Builder (powered by JDXpert) please email jobbuilder@ucmerced.edu.