UC Merced is pleased to announce the addition of the INSIGHT Employee Assistance Program (EAP) to our employee benefit plan. INSIGHT has been providing confidential and professional EAP services to employers in the Central Valley for over 25 years.
INSIGHT offers employees and their household dependents 3 counseling sessions every six months with a licensed professional to assist with work/life concerns. Employees are also entitled to a free 30-minute legal and financial consultation. All services are private and confidential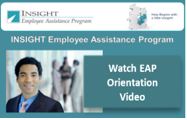 Problems INSIGHT can help you address include:
Emotional Distress
Job-Related Issues
Marital, Family and Parenting Concerns
Divorce/Relationship Conflicts
Custody Issues
Grief and Loss
Life Transition
A work/life resource library and directory are also available via the Internet at http://www.insighteap.com/. Select "Employee Resources" then on the link titled "Visit Personal Advantage" user name: UCMerced and password: 10540 for access to thousands of articles. The INSIGHT resource specialist can assist you in researching and locating your specific needs.
For more information or to make an appointment, please contact INSIGHT at:
INSIGHT Employee Assistance Program
Phone: (800) 422-5322
Email: insighteap@insighteap.com
Monthly Newsletter
Resources