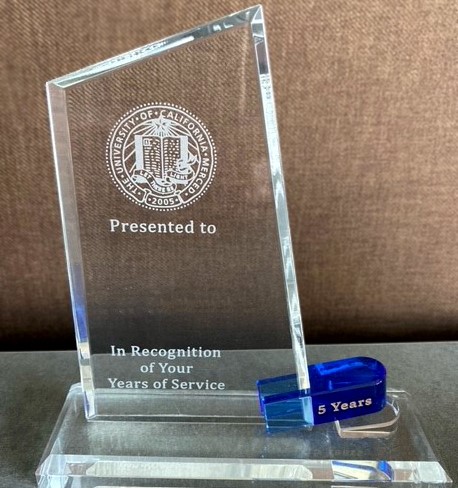 Each year, UC Merced honors staff who reach service milestone anniversaries in the UC system. The milestones mark every five years of UC employment as of Dec. 31, 2020.
This year's online Celebrating Service events will be hosted by campus divisions and offices, and held in conjunction with Staff Appreciation Week, scheduled for May 17-21.
Here is the list of honorees. If you have questions about your next service milestone, please contact Human Resources.
Schedule of Events
Date and Time
Ceremony Host
Honorees' Department/Unit
Zoom Link
Contact
Monday,
May 17,
1 p.m.
Division of Finance and Administration
Financial Planning and Analysis, Center for Business Services and Solutions, Financial Systems Support, General Accounting, Payroll Services, Dining, Contracts and Real Estate Services, ECEC, Fleet Services, Housing, Travel Services, Logistics Services, Project Portfolio Financial Management, and Treasury, Banking and Cashiering Services
Link
Tuesday, May 18,
11 a.m.
Division of Student Affairs
Financial Aid, Admissions, Bright Success Center, Athletics, Health Services, Counseling and Psychological Services, Center for Educational Partnership, Office of Leadership Services, Office of Student Involvement, and Students First Center
Link

Suzanne King:
sking6@ucmerced.edu

Wednesday, May 19,
1 p.m.
Division of Physical Operations, Planning and Development
Physical Plant Operations, Protective Services, Custodial Services, Facilities Operations, Physical Operations, Planning and Development, Design and Construction Management, Grounds Maintenance, Mail and Document Services, Sustainability, and Central Plant Operations
Video link to come

Brandi Alves:
balves@ucmerced.edu

Thursday, May 20,
10 a.m.
Office of the Chancellor
Office of Compliance, Office of Legal Affairs, Office of the Ombuds, and Human Resources
Link
Molly Elazier:
melazier@ucmerced.edu
Thursday, May 20,
11 a.m.
Office of Research and Economic Development
Research Administration
Link
Stephanie Butticci:
sbutticci@ucmerced.edu
Thursday, May 20,
1 p.m.
Division of External Relations
Marketing and Public Services, University Relations and Development, and Alumni Relations
Link
Danielle Armedilla:
darmedilla@ucmerced.edu

Friday,
May 21,
10 a.m.

Office of the Executive Vice Chancellor and Provost
School of Natural Sciences, Office of Information Technology, University Library, Office of the Executive Vice Chancellor and Provost, School of Social Sciences, Humanities and Arts, School of Engineering, Undergraduate Education, Graduate Education, and Center of Institutional Effectiveness
Link
April Graves:
abanda2@ucmerced.edu