What's happening this week!
Open Enrollment is your annual opportunity to maximize the comprehensive health benefits available to you as a UC employee.
UC Merced Benefits is available to help you understand your options in order to make the best selections for your and your family.
Open Enrollment runs from 8 a.m. Oct. 28 through 5 p.m. Nov. 19.
Open Enrollment changes will be effective Jan. 1, 2022
All Open Enrollment changes are made through UCPath
WHAT TO DO DURING OPEN ENROLLMENT
Enroll in or opt-out of UC sponsored medical/dental/vision/legal plans
Add or remove eligible family members within your medical/dental/vision/legal plans
Enroll or re-enroll in Health FSA and/or Dependent Care FSA
OPEN ENROLLMENT FLYER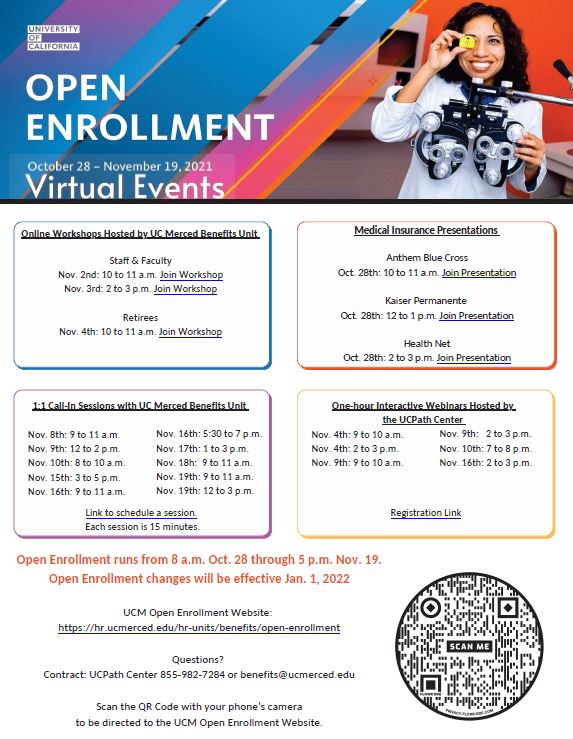 MEDICAL RATES FOR 2022 
2022 HIGHLIGHTS 
ALEX - Your new personal benefits coach. Will help find the plans that fits you best
Learn about Navitus Health Solutions, the new pharmacy benefit manager for CORE, UC Care and UC Health Savings plans
UC's Vision plan covers more costs for contact lenses
New deadline: Make your elections by Friday, Nov. 19 at 5 p.m.
HEALTH AND WELFARE PLAN DETAILS AVAILABLE
Visit the UCnet Open Enrollment page for a comprehensive overview of medical plans. Details are also available for:
Dental
Vision
Supplemental Health Plans
Flexible Spending Accounts
Legal
Pet Insurance