UC Merced Internal Audit Mentorship Program
Program Description
The UC Merced Office of Internal Audit and the Professional Development Unit are proud to present the first Internal Audit Mentorship Program. This program is an ideal learning opportunity for employees at UC Merced to gain invaluable field experience and to develop the skill set necessary to develop in their careers at UC Merced. As an internal audit mentee, UC Merced employees will be able to work closely with the Director of Internal Audit to analyze various aspects of our university's operations to test the strength and reliability of our critical internal controls. Mentees will spend time in the various UC Merced facilities/satellite locations depending on project schedules.
Significant Benefits of an Internal Audit Mentorship Program
Growing professionals in a systematic manner to ensure high standards and wisdom in the university
Sharing of knowledge/experiences
Accelerate empowerment
Improved skills, confidence, and judgment for mentees
Assist UC Merced to develop and retain talent
Benefits to UC Merced
Employees throughout the campus learn a systematic way to evaluate risks, improve operations, and strengthen internal controls. Employees will gain understanding about different areas of the University which will improve understanding of how each department affects the whole campus.
Benefits to mentees
Provides an opportunity to the Mentee to formally identify strengths, weaknesses, gaps, and needs of each department.
Increases self-confidence
Increases participant's ability to fulfill his/her role
Assists participants in growing self-awareness
Assists participants in clarifying career direction and progressing in career goals
Assists in the development of participant's skills and knowledge
UC Merced Competencies
The Internal Audit Mentorship Program addresses the following UC Merced Competencies: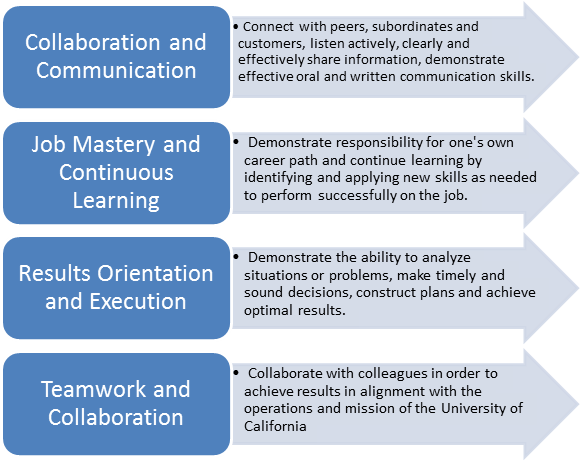 More Information
Program Details, Requirements and Responsibilities
Steps to Join the Program
Application for Internal Audit Mentorship (Intelforms)